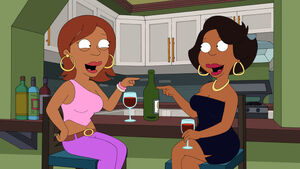 Yvette is a close friend of Donna's at her single mothers group. She claims to hate men in "Ladies' Night", stating that the only thing they are good for is opening jars. However, Donna states that she just tells people this while looking for a husband.
Yvette appears at Freight Train and Cookie Brown's wedding in "You're the Best Man, Cleveland Brown", outside of Chadd in "Frapp Attack!" and at Donna and Cleveland's vow renewal in "Here Comes the Bribe".
In "Brotherly Love", Donna says Yvette received one of Terry' s "special installations."
Yvette is voiced by Rutina Wesley.
Appearances