At the end of his first show, Cleveland blames the federal government for blowing up the levys during Katrina. Cleveland also includes Luke Wilson as one of his guests.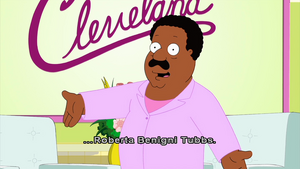 Roberta's middle name is given as Coretta in "Da Doggone Daddy-Daughter Dinner Dance". Here, Cleveland claims it is Benigni.
This is the third time that Donna's grey hair has been shown, first was shown by Donna in "The Brown Knight" and the second was shown and done by Cleveland Jr. in "To Live and Die in VA".
This was musician and talk show host Page Wilson's first and only television appearance before his natural, but untimely death.[1] This episode was dedicated in his memory.
After reading a review on Rotten Tomatoes that claims Cleveland resembles Mr. Potato Head, Rallo later changes Cleveland's expression in the same manner.
Rotten Tomatoes only reviews movies, so Cleveland's television show would not be on it.
Lyrics for the song "Censored" are censored on the DVD as well as the broadcast episode.
Community content is available under
CC-BY-SA
unless otherwise noted.