You're the Best Man, Cleveland Brown
It's A Brown Wedding.

Season: 1 Episode: 21
Total Episode Count: 21
Prod. no.: 1APS22
First Aired: May 23, 2010

Guest Starring: Earth, Wind & Fire
Featuring: Cleveland, Evelyn Brown, LeVar Brown, Robert
Also Appearing: Cleveland Jr., Donna, Rallo, Roberta, Len Stein, Holt, Lester, Terry Kimple, Tim, Kendra, Arianna, Kimi, Jane, Wally Farquhare, Lloyd Waterman, Angus, Gus, Walt, Julius, Oliver Wilkerson, Derek, Kenny West, Chanel Williams, Fabrizia, Athena, Auntie Momma, Daryl Hall Angel, John Oates Devil, Slim Biggins, Reverend, The Fluffers, Coach McFall, Raymond, Shavonne, Yvette, Mr. Flippers, Keith Lieb, Lydia Waterman, Florence, Ms. Eck, AK Rocka, E.L. Fudge, Mr. Armstrong, Saul Friedman, Federline Jones, Filthy Nick, 'Two-Virgine' Merline, Dr. Fist, Herbert, Peter Griffin, Glenn Quagmire, Earth, Wind & Fire, Barack Obama, Jesus Christ, Dan Rather, Tila Tequila, Mickey Rourke, Lilly Wachowski
Musical Numbers: Get on Up

Director: Justin Ridge

Assistant Director
:
Jim Shellhorn
Writers
:
Kirker Butler
Storyboarders
:
Steve Ahn
,
Kevin Pawlak
Plot
: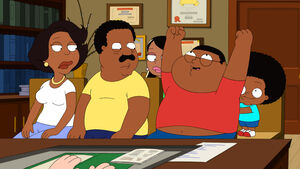 At the reading of Loretta's will to his dismay, Cleveland finds out that Cleveland Jr. will inherit all of his ex-wife's belongings and that Jr. is forbidden to disclose the amount or give any of the estate to Cleveland. Cleveland stews while Jr. treats the family to gifts. When his parents, Cookie and Freight Train, announce they're moving back to Stoolbend and plan to remarry, Jr. offers to pay for the wedding. Freight Train hesitantly offers Cleveland the position of Best Man at Cookie's insistence, but when he finds he has more of a kindred spirit in Robert Tubbs, Donna's ex-husband, Freight Train dumps Cleveland as his best man in favor of Robert. However, they both have so much in common that neither one shows up for the wedding.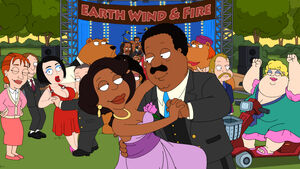 Cookie decides to give up on Freight Train and head back home. Cleveland rushes in to confront Freight Train at his apartment and finds the two of them sleeping off a night of drinking. After trying to fight, Cleveland hits Freight Train with the realization that he is a coward, afraid of marrying Cookie. Freight Train takes this to heart and they rush back to the house to stop Cookie from leaving. They find the wedding guests have remained at the house long after the ceremony was supposed to take place, taking advantage of the food and drinks. Just as Cookie is heading for the door, Freight Train confesses his feeling for Cookie and they agree to finish the ceremony. Freight Train offers Cleveland the position of Best Man again but he turns it down in favor of giving away his mother.

Community content is available under
CC-BY-SA
unless otherwise noted.