Translated into English, the title means "And you Junior, also" or more naturally as "And you also, Junior."
Once again, Jess Harnell fills in for Seth MacFarlane as Tim. This is made obvious by the fact that Tim is only given very short one-word lines. Seth's name was removed from the credits for the first time.
Ernie's marriage to 'Two-Virgine' Merline in "Cleveland Jr. Cherry Bomb" seems to have been dropped by the writers.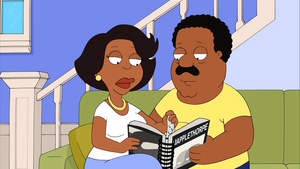 When Choni says "fiesta", Cleveland mistook the word as "siesta" which means "to take a nap".
Cleveland and Donna read a book by Mapplethorp. Robert Mapplethorpe was an American photographer, known for his large-scale, highly stylized black and white portraits often featuring naked men. The frank, homosexual eroticism of some of the work of his middle period triggered a more general controversy about the public funding of artworks and of the artist's work in general.
Community content is available under
CC-BY-SA
unless otherwise noted.