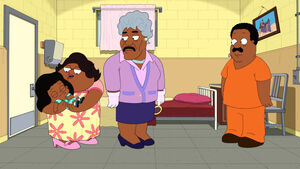 A promotional image of Junior and Rallo joining in with Freight Train's persona in dressing in drag visiting Cleveland in prison was released but not used in the original broadcast episode.
This episode has no cutaway gags.
Cleveland had previously revealed in "Hustle 'N' Bros." that LeVar writes mystery novels under the pseudonym of Jocelyn Elderwood.
Cleveland mimics pulling a pin out of a grenade with his teeth when he eggs Wally.
This episode marks the death of Lydia Waterman and the last appearance of Mr. Waterman & Waterman Cable.