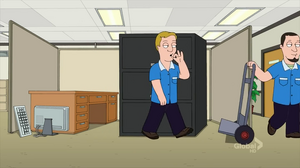 After the workmen deliver the file cabinet, one of the workmen pinches his fingers together, suggestive of smoking a joint.
The background song at the concert is "(Not Just) Knee Deep" by George Clinton and the P-Funk All-Stars.
Donna wears a shirt at the concert lettered Atomic Dog after one of George Clinton's bestselling songs.
Cookie's full name is revealed as "Evelyn Champagne Brooks Brown."
Cookie's former employment includes a stint as the first host of Saturday Night Videos, a long-haul truck driver and five time Libertarian candidate for Mayor.
During "I'm Feeling Ookie, Cookie", LeVar speaks to Joylisa at the Waffle House. Cleveland had previously mentioned LeVar cheating on Cookie with a Waffle House waitress in "You're the Best Man, Cleveland Brown".
Community content is available under
CC-BY-SA
unless otherwise noted.