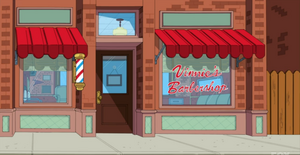 Vinnie's Barber Shop is where Rallo gets his first "adult" hair cut.
In "To Live and Die in VA", when Donna declares it's time for Rallo to get another haircut he decides it's time to quit getting his cut by his mom in the kitchen and go to a real barbershop. Rallo gets his friend Murray to take him to his barbershop where he finds out the barbershop keeps nudie magazines and soon picks up dirty jokes from the guys. When Donna objects, she forbids him from returning. When Rallo sees Cleveland Jr. styling a dolls hair, he hits on the idea to move the barbershop to their home.
When Donna discovers her kitchen full of guys she is upset until Cleveland Jr. styles and dyes her hair. Rallo's barber shop soon becomes a beauty salon. When Donna continues to refuse to let him return to Vinnie's Barber Shop, Rallo threatens to return Donna's old looks. Rallo is allowed to return to Vinnie's where he discovers he can take advantage of the old customers memory problems for financial gain.