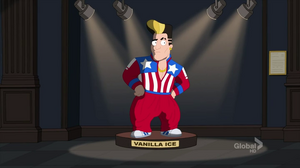 Robert Matthew Van Winkle (born October 31, 1967), best known by his stage name Vanilla Ice, is an American rapper. Van Winkle's single "Ice Ice Baby" was the first hip hop single to top the Billboard charts.
In "Harder, Better, Faster, Browner", an animatronic Vanilla Ice could be seen dangling by the leg by an animatronic Suge Knight at Fuddruck the Police.
A poster of Vanilla Ice hangs in Boogie Down Records in "The Men in Me".
A figure of Vanilla Ice is used in Rallo and Cleveland Brown Jr.'s Hall of Pretenders to show Federline other white men that took advantage of black culture in order to help him regain his confidence in "Brownsized". Rallo and Junior correctly identifies his name but points out that he is hated.
Community content is available under
CC-BY-SA
unless otherwise noted.