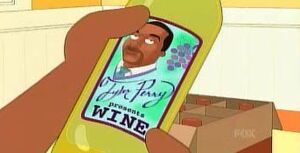 Tyler Perry (born Emmitt Perry, Jr. September 13, 1969) is an American actor, director, playwright, screenwriter, producer, and author. Perry began to make national celebrity status in 2005 with the release of his first movie, Diary of a Mad Black Woman. In 2009, Perry was ranked by Forbes magazine as the sixth highest-paid man in Hollywood.
In "Harder, Better, Faster, Browner", Kenny West presents Donna with a case of Tyler Perry wine which Cleveland lauds as being "rich and super-fruity and not complex".
In "Back To Cool", the Stoolbend Cinema is showing "Tyler Perry presents: Tyler Perry in The Tyler Perry Story".
The Tyler Perry section replaced the Eddie Murphy DVD section at Blackbuster in "The Men in Me". Dee Dee Tubbs reads The Complete Works of Tyler Perry in "Mr. and Mrs. Brown".