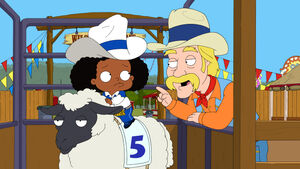 Tough "Jeffery" Hogland runs the "mutton bustin'" sheep riding concession at the county fair in "Ain't Nothin' But Mutton Bustin'".
After a disappointing day of shopping and bowling, Cleveland and Rallo end up at the county fair. Seeing some sheep they believe to be part of a petting zoo, they find out about "mutton bustin'" or sheep riding. Rallo turns out to be a natural and becomes hooked. Donna believes it is too dangerous and tells them that there will be no more mutton bustin'. Rallo and Cleveland decide to start sneaking off together to continue riding. They form close ties with Hogland, even calling him "Jeffery". After Rallo finds out from Hogland that the sheep are destined to become food after their riding days are over, Rallo escapes with Barnaby, his favorite sheep, and they hop a passing train to town.
Community content is available under
CC-BY-SA
unless otherwise noted.