The Men in Me
Cleveland is labeled "The Whitest Black Man in America" after he wins a dance competition.

Season: 3 Episode: 15
Total Episode Count: 58
Prod. no.: 3APS09
First Aired: March 25, 2012

Guest Starring: Florence Henderson, Rosie Perez, Johnny Bench
Featuring: Cleveland
Also Appearing: Donna, Roberta, Rallo, Cleveland Brown Jr., Lester, Tim, Holt, Federline Jones, Dwayne Meighan, Larry the Leopard, Reverend Jenkins, Broderick Brown, LeVar Brown, Evelyn Brown, Barbara, Elliott & Bunny, DJ Charlie Chode Rock, Usher, Rosie Perez, Justin Bieber, Wayne Brady, Tracy Morgan, Don Cornelius, Eddie Murphy, Richard Roundtree, Ice Cube, Chris Tucker, Vanilla Ice
Musical Numbers: Cereal Milk, Baby, Am I Black Enough for Ya?, The Men in Me

Director: Steve Robertson
Assistant Director: Pablo Solis
Writers: Clarence Livingston
Storyboarders: Onno De Jong, Antony Mazzotta


Plot: When Cleveland spots a poster of Justin Bieber on Junior's wall he mistakes it for a girl. When he finds out the truth, Junior tries to get him to listen to a song but Cleveland dismisses the thought. Cleveland soon finds himself listening to the song everywhere and soon catches on to it. When a radio station gives away tickets to a Justin Bieber concert as part of a dance contest, Cleveland enters and wins but finds himself labeled "The Whitest Black Man in America."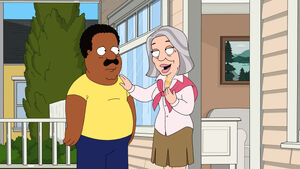 Unable to shake off his new reputation, Cleveland is determined to understand his roots and where he came from. Cleveland tries to recreate himself as a black man but becomes even more of a stereotype. After consulting with his parents, he is reunited with his former nanny Barbara. Cleveland is unable to remember his time with Barbara but she takes him around and manages to jog his memory.
When he invites her to dinner with his family, he finds out that she had a fling with his mother when Freight Train left them. Caught between angry family members, leaves even more confused about his identity. Barbara catches up with him and helps Cleveland to finally learn that happiness comes from being comfortable in your own skin. Cleveland invites her to the Justin Bieber concert but she turns him down to go to a rap concert so Cleveland takes Junior. As an epilogue, he is arrested and the concert is shut down as part of a pedophile sting.