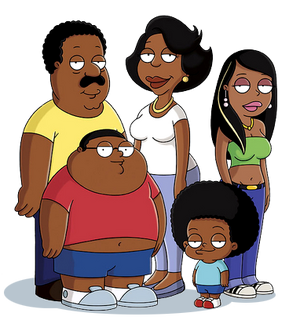 The Cleveland Show is an animated series created by Seth MacFarlane, as a spin-off from Family Guy, also created by Seth MacFarlane. The animated series focuses on the character of Cleveland and his family as he moves from Rhode Island to Virginia. The main characters are Cleveland, Rallo, Donna, Roberta and Cleveland Brown Jr.. According to the DVD commentary for the pilot episode, the show was originally to be called "Black Family Guy".
Plot
Years ago, Cleveland Brown fell in love with the beautiful Donna. Unfortunately, Donna fell in love and married someone else. She promised Cleveland that if it didn't work out she would come to him. It didn't work out. Her man skipped town with another woman, leaving her with a teen daughter and a baby. Donna offers Cleveland a chance to win her over: by moving to the town of Stoolbend with son Cleveland Brown Jr.. He now lives with a new step-daughter and step-son and rather strange neighbors, including a loudmouthed redneck couple, a group of woodland bears, and a hipster wannabe.
Characters
Merchandise
The end of The Cleveland Show is acknowledged when Cleveland simply walks back onto Family Guy in "He's Bla-ack!" and opens himself up to the humiliation from his friends.
Family Guy producer Steve Callaghan reported that some of The Cleveland Show characters would make guest appearances on Family Guy during 2014's San Diego Comic Con.[1]
Community content is available under
CC-BY-SA
unless otherwise noted.