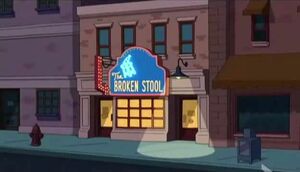 The Broken Stool is a local bar in Stoolbend where Cleveland, Lester, Holt, Tim, and occasionally Terry drink. Their policy is "You must at least look 21 to drink in this establishment". Beverages that they serve include beer and sugar-free Stoli Red Bulls and Stool Bend Lager, while food includes sandwiches and a "Broken Stool Sampler".
Cleveland and his friends often come here to get a few drinks and discuss the day's events. This is exaggerated in "Cleveland Jr. Cherry Bomb" when Lester dismisses everyone from the table with a gavel after they finish their discussion. Coach McFall works as a janitor here for free drinks, while a young man in a purple shirt waits tables. There are several activities to occupy people at the bar; football games often play on the TVs, and arcade machines and pool tables can be found on the floor. There has also been a couples' karaoke contest held here, which Cleveland and Donna won.
Gus is the bartender/owner of the bar. He is very lax and provides drinks for free before learning some tricks from Cleveland Jr. in "The Curious Case of Jr. Working at the Stool", who he employs for a short time. He apparently doesn't pay taxes on the bar, so it is unknown how he still keeps it running.
In "Once Upon a Tyne in New York", it is said by Holt that they have been there every night since Cleveland got married.
Cleveland and the guys talk Gus into opening a second version of The Broken Stool at the airport in "A General Thanksgiving Episode", but when they find that the airport is overrun with bars, Gus threatens them to make the bar work so his niece can get her college fund back. He later backs off of his threats when his niece dies.
"The Bloken Stoor" is shown as the Japanese version of The Broken Stool in "Wide World of Cleveland Show".
Gus runs an upscale Italian restaurant called Gustavos over The Broken Stool where Donna dines with Ebert Williams in "The Hangover Part Tubbs".