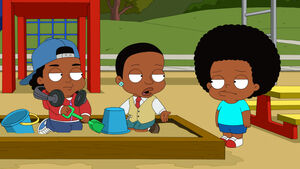 Faheem Rasheed Najm, better known by his stage name "T-Pain", is an American singer-songwriter, rapper, and record producer. He is well known for his extensive use of the Auto-Tune pitch correction device, and has produced several hits both by himself and featuring on other singers' songs.
He voices Theodore, one of Rallo's friends.
Cleveland Brown Jr. mistakes Cleveland for T-Pain in "The Men in Me".
In "Your Show of Shows", T-Pain is supposedly Theodore's uncle.