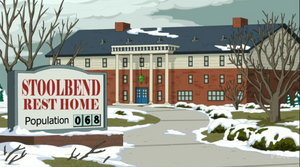 The Stoolbend Rest Home is where Rallo and resident Murray get to know each other in "Murray Christmas". When Rallo decides to sneak Murray out of the home and keep him hidden in his room, Mrs. Bailey the rest home supervisor comes looking for his concerned that he can't take his medicine to keep him alive. As Murray gets worse, Rallo struggles with the decision to keep Murry or not until he decides to come clean. Visiting A distraught Murray back at the home, Rallo and Cleveland free the residents despite Mrs. Bailey's protests and take them back to the Brown home for Christmas.
Rallo and his friends Theodore and Bernard visit Murray in the home in "Your Show of Shows" where Murray agrees to write a song for their act in the school talent show.
Rallo goes to meet Murray at the home in "Sex and the Biddy" only to find that Murray is being taken for his money by Hazel.
The rest home appears on the cover of The Daily Splash newspaper after a fire in "Pins, Spins and Fins!" as the otherwise empty Funky Junction amusement park burns down, the rest home also burns down with eighty eight casualties due to the fire department being otherwise occupied saving Cleveland and his friends and family.
Community content is available under
CC-BY-SA
unless otherwise noted.