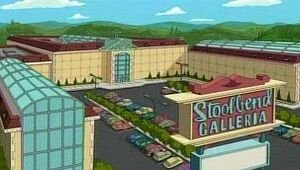 The Stoolbend Galleria is a shopping mall in Stoolbend. It contains several stores such as "Touching Cotton", and sets up a large model train track during Christmas which is considered part of "Holidaytown". It also has a large food court which contains several specialty restaurants, including "Churro King", "Smoothie Station", "Fro-Yo to Go", and "Garage Pizza".
Federline Jones tries to teach Cleveland Jr. how to pick up girls here in "Cleveland Jr. Cherry Bomb". The plan fails when Cleveland Jr. refuses to treat the girls poorly at the mall, instead telling them they should save themselves for marriage too.
Rallo wrecks the mall's model train display when he looses his belief in Santa Claus in "A Cleveland Brown Christmas".
Cleveland and Terry pick a fight with old ladies wearing purple with red hats in "Field of Streams".
AK Rocka attempts to get a job here folding shirts in "Our Gang".
Donna tries to bond with Roberta in "How Do You Solve a Problem Like Roberta?, but they get into a dispute when she finds out about Diego.
Cleveland and Junior go out to a movie at the Galleria Cinema 6 in "Y Tu Junior Tambien" although Cleveland becomes disappointed that Junior had never found his own female companion.
In "There Goes El Neighborhood", Cleveland Jr. finds a depressed Cecilia there when her date Tyler Hudson fails to show after Jr. threatens him.
Cleveland buys a track suit at the mall in imitation of Robert Tubbs in "Hustle 'N' Bros.".
Appearances
Community content is available under
CC-BY-SA
unless otherwise noted.