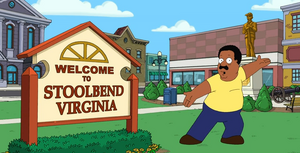 Stoolbend is a town in Virginia. The name "Stoolbend" is claimed by Mike Henry in the Pilot episode DVD commentary to have originated during a fishing trip when one of the party defecated in the river. When they later returned to the bend in the river, they found the stool still there, causing them to name the place Stoolbend.
History
Stoolbend was founded by B. Emerson Plunkett. During the Civil War, The Battle of Stoolbend was fought there, which the Confederacy won.
"There Goes El Neighborhood" reveals the town was originally named after the Spanish mission of St. Oolbend and has a large Latino influence that Cleveland was previously unaware of.
The Present
Cleveland Brown grew up in Stoolbend. After his ex-wife, Loretta Brown, obtained Cleveland's house in Quahog after their divorce, Cleveland moved to Stoolbend with his son, Cleveland Jr.. Donna and Robert grew up in Stoolbend, with Cleveland, and they got married and had two kids, Roberta and Rallo. Also living in Stoolbend are Lester Krinklesac, a family of bears, and Kenny West. The mayor of Stoolbend is Larry Box. Locations in Stoolbend include Stoolbend High School, Harper Elementary School, Waterman Cable, Stoolbend Public Library and The Broken Stool. The town has a minor league baseball team called the 'Turtleheads'.