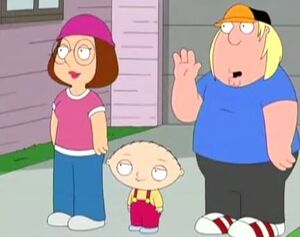 Stewie is the youngest of Peter and Lois Griffin's children that were former neighbors of Cleveland's in Quahog. He appears in the Pilot episode with his older siblings, Meg and Chris, at Cleveland's send-off. He is apparently angry and jealous that Cleveland got a spin-off and not him.
The entire Griffin Family appear to cut a scene away from Lester using the 'N' word in "Once Upon a Tyne in New York".
They also appear when Quagmire explains how Loretta dies in "Gone with the Wind".
Stewie appears in the introduction of "Cleveland Live!" where he "borrows" Bart Simpson's catchphrase of "Ay Caramba!"
In "Ain't Nothin' But Mutton Bustin'", stuffed Brian and Stewie toys are available at the fair, The booth runner calls Stewie "Stevie", and one of the sayings the Stewie toy has is an admittance that he's gay, a reference to Stewie's sexual confusion.
Cleveland does his impression of Chris in "Your Show of Shows", asking Stewie to come smell his butt.
In "BFFs", Brian and Stewie distract Cleveland off-screen as they are still inside their house, while Peter sneaks to his car, not wanting to speak to Cleveland.
Roberta Tubbs plays with marionettes of Brian Griffin and Stewie in "The Hurricane".
Stewie is seen as a balloon in the Stoolbend Thanksgiving parade in "Turkey Pot Die".
Peter and Stewie both appear as Pez dispensers that Robert Tubbs collects in "Wheel! Of! Family!".
Stewie is voiced by Family Guy creator and The Cleveland Show co-creator Seth MacFarlane.
Appearances
Community content is available under
CC-BY-SA
unless otherwise noted.