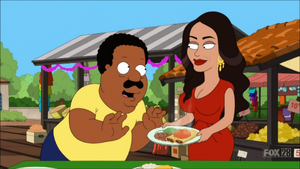 Sofía Margarita Vergara (born July 10, 1972) is a Colombian actress, comedian, television host, model, and entrepreneur.
Vergara had been widely known for co-hosting two TV shows for Univisión in the late 1990s. Her TV career opened up for her a window of exposure to North American audiences prior to her first notable acting job in English, the 2003 film Chasing Papi. Subsequently, she appeared in films, including two Tyler Perry films, Meet the Browns (2008) and Madea Goes to Jail (2009), receiving an ALMA Award nomination for the latter. She is currently known for being a co-star of the hit ABC sitcom Modern Family.
Vergara guest voices as Spanish teacher Señora Chalupa in "The Essence of Cleveland".
In "There Goes El Neighborhood", her likeness is used in "I Love L-A-T-I-N-O-S".
Cecilia and her aunts Choni and Sofia offer support of Cleveland Jr. having a quinceanera in "Wide World of Cleveland Show".