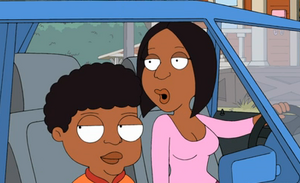 Shavonne is the mother of Walt, one of Rallo's friends. She appears at the dance in "Da Doggone Daddy-Daughter Dinner Dance".
In "The One About Friends", she drives a blue vehicle to pick up Walt from Rallo's house. Rallo believes that she has a great figure.
Shavonne appears in the audience during the taping of "Cleveland Live!".
She also appears at the racetrack and the Staples Center in "A Short Story and a Tall Tale", as well as at the airport after returning from Los Angeles.
Shavonne attends Cleveland's revamped show in "Your Show of Shows".
Shavonne is mentioned in "Nightmare on Grace Street". Rallo calls Cleveland during a sleepover at Walt's house, and Cleveland answers assuming that it is Shavonne. He tells her that he is happily married and that she must stop calling, implying that the two most likely have history together and reaffirming Shavonne's supposed attractiveness.
Shavonne joins the "The Commodores Gold Record and All-You-Can-Eat Jumbo Shrimps Cruise" in "Das Shrimp Boot".
She has an appearance in Judge Oshman's courtroom in "American Prankster" and to cheer Cleveland to jump off of a ledge in "Brownsized".
Appearances
Community content is available under
CC-BY-SA
unless otherwise noted.