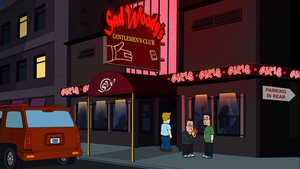 Sad Woody's Gentlemen's Club is where Cleveland takes Freight Train for an impromptu bachelor party before his wedding to Cookie in "You're the Best Man, Cleveland Brown". Freight Train meets Donna's ex-husband Robert at Sad Woody's Gentlemen's Club and they hit it off, with Freight Train deciding to make him his best man instead of Cleveland. Lester's sister is employed as a dancer at the club. Tim goes but finds himself uncomfortable because he doesn't wear pants, making any interest he has in the proceedings around him quite evident.
Rallo goes to Sad Woody's to find Cleveland in "Pins, Spins and Fins!" but bumps into Robert instead. After Robert has waitress Fifi set Rallo up online, he finds out through Holt's Facebook feed that Cleveland and the guys went to Funky Junction amusement park. After Robert drops Rallo off at at the park and leaves him there alone, he returns to the club where he is also found by Donna who is also searching for Cleveland. The bartender at Sad Woody's is also familiar with Donna, believing that she came crawling back after her job.
Next door to Sad Woody's is Even Sadder Woody's in "Wheel! Of! Family!".