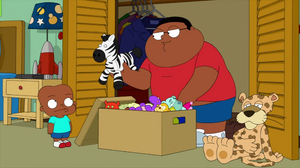 Roy is a stuffed toy zebra that belongs to Cleveland Brown Jr..
in "Of Lice and Men", Junior tries to spark some imagination in Rallo and lends him Roy, a five year old like Rallo whom is said to have anxiety-induced eczema turning him black and white and red all over, although Junior gives Larry the Leopard credit for the joke. Junior sets the stage for a battle in space and after some early hesitating, Rallo finds himself riding Roy into space with Junior.
When Rallo's hair grows back and he rejoins his friends, he returns Roy to Junior, along with a tube of imaginary cream for the eczema just in time for Junior to take off on an adventure with Roy himself.
Community content is available under
CC-BY-SA
unless otherwise noted.