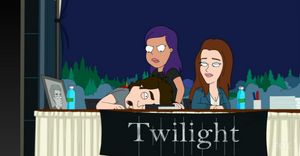 Robert Douglas Thomas Pattinson (born 13 May 1986) is an English actor, model, musician, and producer. Born and raised in London, Pattinson started out his career by playing the role of Cedric Diggory in Harry Potter and the Goblet of Fire. Later, he landed the leading role of Edward Cullen in the film adaptations of the Twilight novels by Stephenie Meyer.
He appears at a Twilight booth at Comic-con in "Hot Cocoa Bang Bang" with co-star Kristen Stewart. When the nerds led by Cleveland Brown Jr. decide to take back comic-con from the Hollywood types that have taken over a Buffy the Vampire Slayer fan stabs Robert with a wooden stake. When Kristen protests that it's just characters they play she is also stabbed.
Community content is available under
CC-BY-SA
unless otherwise noted.