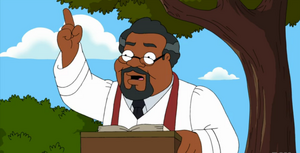 The Reverend Jenkins performed Loretta Brown's funeral in "Gone with the Wind". This same Reverend would perform Cleveland and Donna's wedding in "You're the Best Man, Cleveland Brown" and would also preside over Lester's funeral in "To Live and Die in VA".
Reverend Jenkins plays the role of one of the hostages taken by Tim and his group of thieves in "Die Semi-Hard".
He is established as the new leader of the Stoolbend Community Church in "The Men in Me" when Cleveland seeks out his advice.
Cleveland punishes Rallo by sending him to church during one of Reverend Jenkin's services in "American Prankster".
Reverend Jenkins and a young boy dressed in a similar manner sit in The Broken Stool planning Thanksgiving in "Turkey Pot Die".
The Reverend conducts Cleveland and Donna's vow renewal in "Here Comes the Bribe" despite some misgivings regarding the need for a third ceremony and their writing their own vows.
He also attends Evelyn Brown & Freight Train's anniversary party and conducts Cookie's "funeral" in "When a Man (or a Freight Train) Loves His Cookie".
The Rev takes over Donna and Cleveland's house when they move to California in "California Dreamin'" after he is caught fooling around.
The Rev oversees the christening of Quang Quang in "Wheel! Of! Family!",
He is voiced by Kevin Michael Richardson who also voiced the Pastor, an earlier religious figure in Stoolbend.
Appearances
Community content is available under
CC-BY-SA
unless otherwise noted.