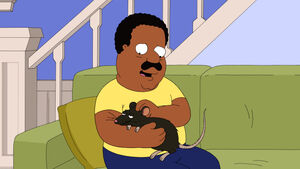 Rat Lauer, named after Today show host Matt Lauer, is the rat that Donna finds roaming the house in "A Rodent Like This", sending her and the kids to stay at her mother Dee Dee Tubbs' house. When Cleveland is left behind to deal with the rat, he almost kills it until he realizes just how much quieter his life will be without the family for a while and decides to keep it as a companion for a few days.
When Dee Dee tells Donna that she has to leave, she finds Cleveland playing with the rat. Donna freaks out as the rat latches itself onto her and bites her. Taking Donna to the hospital to test her and the rat for rabies, Cleveland is distressed to find they plan on killing the rat as part of the test and tries to stop despite Donna's insistence. Cleveland begs to be alone with the rat in the woods to kill it himself. In the woods with Donna and the rat, he wants to take one last look and finds out the rat really has rabies and is attacked. Jumping into the car to flee the rat with Donna, Cleveland finds he left his keys outside with the rat. They draw to get see who has to get the keys and Cleveland returns as the car comes after attack from the rat. As they flee, Dee Dee kills the rat as Donna develops rabies.
Community content is available under
CC-BY-SA
unless otherwise noted.