Our Gang
Cleveland and Cleveland Jr. form a club for troubled teens that is put to the test.

Season: 1 Episode: 12
Total Episode Count: 12
Prod. no.: 1APS12
First Aired: January 31, 2010

Guest Starring: Seth Green, Monique Coleman, Ari Graynor, Jerry Minor, Noel Gugliemi, Josh Gad
Featuring: Cleveland, Cleveland Jr.
Also Appearing: Rallo Tubbs, Donna Tubbs-Brown, Terry, Wally, Mr. Armstrong, Ms. Eck, Broderick Brown, Kyle, Chris Griffin, Fabrizia, 'Two-Virgine' Merline, E.L. Fudge, P-Hound, Fontaisha, Wowzer, Ho Punch, BigSkeez, AK Rocka, Lay-Z I, Momstabba, Amy Winehouse, Nicole Kidman
Director: Anthony Agrusa

Assistant Director
:
Orlando Gumatay
Writers
:
Aaron Lee
Storyboarders
:
John Eddings
,
Lisa Kim
Plot
: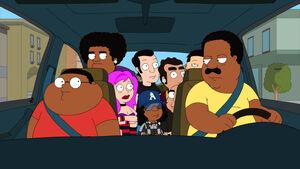 When the worst kids in the school go too far and Principal Wally expels the group, Coach Cleveland comes to the rescue by taking a group of delinquent teens under his wing. In an effort to teach them life skills, he proposes they go into business making and selling cookies. The kids however, misinterpret his baking terms for drugs and start dealing. Business is good until another gang takes over the area, stealing the drugs and money from the Crazy Eights. Cleveland rushes in to steal back the goods still believing them to be cookies. When he finds out they are drugs, he destroys them by flushing them down the toilet but faces a demand to return them or lose Cleveland Jr. who was captured. Cleveland rallies the Crazy Eights but becomes endangered himself. Inspired by Cleveland's attempt to help them, the Crazy Eights give up their own drug stashes but it does not appear to be enough until Cleveland's brother Broderick arrives with a super stash to trade for Cleveland. Cleveland sends the Eights on to try to make more of their lives, but more importantly, to get away from him.
On the side, Rallo is so caught up wearing his superhero costume from a friend's party he can't bear to take it off. He tries to rescue Cleveland and his gang but comes up short when he finds he does not really have powers.

Community content is available under
CC-BY-SA
unless otherwise noted.