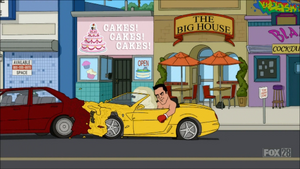 Oscar De La Hoya (born February 4, 1973 in East Los Angeles, California) is a retired American boxer of Mexican descent. Nicknamed "The Golden Boy", De La Hoya won a gold medal at the Barcelona Olympic Games shortly after graduating from Garfield High School. De La Hoya comes from a boxing family. His grandfather Vicente, father Joel Sr., and brother Joel Jr. were all boxers. De La Hoya was The Ring's "Fighter of the Year" in 1995 and Ring Magazine's top-rated Pound for Pound fighter in the world in 1997 & 1998. De La Hoya officially announced his retirement from the sport at a press conference held in Los Angeles on April 14, 2009.
In 1997, Oscar De La Hoya's car was rear-ended by another car as the boxer was trying to steer his stalled Mercedes to a freeway shoulder in the city of Industry, CA. After De La Hoya's car was on the shoulder, it was struck by another vehicle. [1]
Oscar De La Hoya and his accident are referenced during "I Love L-A-T-I-N-O-S" in "There Goes El Neighborhood" when Choni explains Latino culture to Cleveland Brown.
Community content is available under
CC-BY-SA
unless otherwise noted.