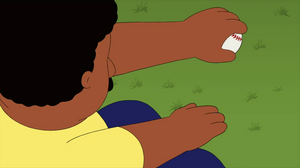 This episode did not air on the East Coast originally due to a three-hour rain delay for a NASCAR race. The episode was subsequently rescheduled to precede "Mr. and Mrs. Brown" the following week. [1][2]
This episode has no cutaway gags.
Cleveland's right arm is significantly shorter than his left, which he blames as the reason he didn't play for the Yankees.
This episode marks the final speaking roles for Tim, Lester and Holt before the show's cancellation.
Junior has a toy of He-Man in his toy chest.
Lester wanted to be the only hetero male at the American Ballet School for Dancing pansies until his father dismissed the idea. When the guys are confronted by their fathers, Lester refers to his dad as his "Brother-Pa."
In reality, RC Cola is available in Virginia.