Murray Christmas
Rallo learns about Hanukkah when his teacher forces him to spend the weekend at a retirement home and Cleveland takes on his father.

Season: 2 Episode: 8
Total Episode Count: 29
Prod. no.: 2APS09
First Aired: December 5, 2010

Guest Starring: Carl Reiner, Ed Asner, Dawnn Lewis
Featuring: Rallo, Cleveland, Freight Train, Murray
Also Appearing: Donna, Cleveland Jr., Roberta, Lester, Tim, Holt, Terry Kimple, Gus, Mrs. Lowenstein, Bernard Bernard, Theodore Parker, Jr. III, Walt, Julius, Rice Pee Pee, Evelyn Brown, Dr. Fist, Kendra, Herbert, Mrs. Bailey, Carl Fredricksen, ED-209, Jonah Hill
Musical Numbers: Please Come Home for Christmas, There's No Business Like Show Business

Director: Ken Wong

Assistant Director
:
Max Martinez
Writers
:
Kirker Butler
Storyboarders
:
Bruce Heller
,
Kevin Pawlak
Plot
:
While performing in a class choir at the Stoolbend Rest Home, Rallo observes one of the residents not paying attention and gets into a verbal battle of wits with him. When the home supervisor suggests they get to know each other better, Rallo's teacher forces him to spend the weekend at a retirement home to get to know the senior citizens during the holidays, Murray teaches him about Hanukkah. In an attempt to rekindle Murray's holiday spirit, Rallo helps him escape, but when his new friend's health begins to suffer, Rallo has to decide whether or not to bring Murray back to the home.
Meanwhile, Cleveland Jr. sees a picture of his dad with a black eye at Christmas and finds out how his grandfather spends "Boxing Day", by forcing his son to box with him for his gifts to toughen him up. Donna trains Cleveland for a boxing match against his father, which ends with Cleveland landing a surprise blow that triggers a heart attack in Freight Train.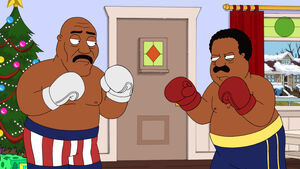 When Donna finds Murray's teeth in the dishwasher Rallo comes clean, which hurts Murray's feelings and trust. When Cleveland goes to see his father, Freight Train is forced to admit he is getting old and regrets not spending more time with Cleveland even if in the form of more beatings. Rallo decides to go back to the home and free Murray and the rest of the residents for Christmas with the help of Cleveland Jr. and Cleveland. In addition to Christmas at the Brown home with the rest home residents and Cleveland's parents, Rallo also treats Murray to the last night of Hanukkah.