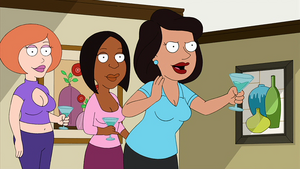 Muff is a frequent background character who was given a name in "BFFs".
In "Brotherly Love", Muff appears when Cleveland first learns that Terry Kimple provides stripping in addition to his cable installations. She screams for the guys to "take it off."
Muff sits behind Cleveland and Donna during Rallo's presentation of his trip to "Africa" in "How Cleveland Got His Groove Back".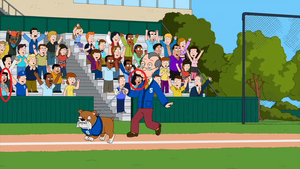 Muff appears twice within the same scene in "Little Man on Campus" as Mr. Waterman brings out Sparky. She continues to appear in the stands throughout the episode. A similar occurrence happens at the end of "Small Ass Town, Big Ass Heart" in "The Blue And The Gray And The Brown" when Muff can be seen twice in the same scene at the town council meeting.
She can be seen behind Kevin Garnett at the Staples Center in "A Short Story and a Tall Tale".
Muff attends Cleveland's revamped show in "Your Show of Shows".
In "BFFs", when Donna is surprised at Rallo's pre-school reunion that DeeDee's son Byron can speak Italian, the other mothers speak up about their child's accomplishments. Muff's not only takes language classes but Eco-American folk sculpting as well.
Muff sits in the audience at The Broken Stool's "Day Before Halloween Pumpkin Carving Contest" in "Nightmare on Grace Street".
When Rallo is caught trying to return ballot's for the Stoolbend High School student presidential election in "'Til Deaf", Muff is one of the school faculty members that spots him.
Muff sits in the congregation at Stoolbend Community Church in "American Prankster".
Muff attends the college fair in "B.M.O.C.".
During the parade in honor of Maurice, Muff sits in the stands just behind and off to the side of Roberta and Rallo in "Jesus Walks".
Muff appears in the background of the news report as Cleveland is airlifted to the capital in "Flush of Genius".
Muff is seen to Miller M. Greene's left when he makes his appearance at Slop Poppers Inc. in "All You Can Eat".
Muff also appears in the Italian segment of "Wide World of Cleveland Show".
Muff appears in the school candidates debate in "The Hangover Part Tubbs".
Mike Henry, co-creator of The Cleveland Show, mentioned on Inside the Actor's Studio that "muff" is his favorite word.[1]
Muff is voiced by Aseem Batra.
Community content is available under
CC-BY-SA
unless otherwise noted.