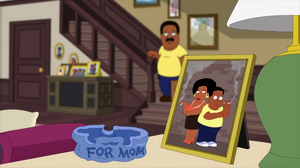 Although it was not advertised as a special themed episode, this mom-centric episode originally aired on Mother's Day.
Lester, Tim and Holt do not appear.
This episode has no cutaway gags.
When Donna sees Shakespeare in the Park, she hopes they perform Shakespeare in Love, a 1998 romantic comedy-drama film.
Bonnie Tyler's "Total Eclipse of the Heart" plays during Cleveland's walk through Cookie's house as well as Cleveland's run home to Donna.
A photograph shows young Cleveland smoking with his mother, as well as an ashtray he made her.
After previously joking with his mother about how Romantic-Comedies always feature a run to the airport, the episode ends on just such an device.
The Shakespeare in the Park dialogue is from Romeo and Juliet, Act II scene ii.
When Cleveland competes the people at Rockbridge Resort, the song "Slam" by Onyx plays.