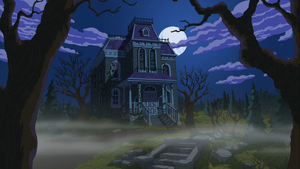 The McCafferty House is where Donna drops off Rallo and Cleveland to teach them a lesson about trying to scare each other in "Nightmare on Grace Street". She forces them to be brave by spending the night in the house together. As they try to settle in for the night, Cleveland and Rallo hear noises and investigate, discovering spooky surprises such as a rubber spider, a walking dead night light and cat cutout that Donna and Cleveland Brown Jr. planted as traps while they watch on a web cam at home. Agreeing that they both would prefer to be at home having snacks and watching Yo Gabba Gabba, Cleveland and Rallo decide to call a truce and leave together.
Community content is available under
CC-BY-SA
unless otherwise noted.