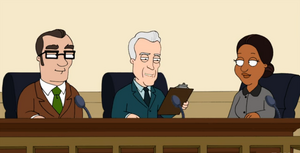 Larry Box is the mildly profane Mayor of Stoolbend, Virgina.
When Cleveland finds out about a plan to tear down the local drive-in theater in "The Blue And The Gray And The Brown", he attends a meeting at the Stoolbend Town Hall and appeals for them to save the drive-in. His efforts to preserve the town's history is noticed by the Stoolbend Preservation Society and he is invited to attend a private dinner party at the home of the great-great-grandson of the town's founding father, B. Emerson Plunkett V. The society uses Cleveland's enthusiasm to save a park and statue of the town father from being turned into a parking lot, only to find that he has been duped into protecting the legacy of a slaveholder by B. Emerson Plunkett V.
After Cleveland and his friends extract their revenge by beating Plunkett and the Southern troops in a civil war battle reenactment, Mayor Box fines Cleveland and his friends for tearing down the statue themselves in order to cover for it's replacement.
in "The Hurricane", Mayor Box admonishes those that ignored warnings to get out of Stoolbend in the face of the approaching hurricane while sitting in a hotel in Las Vegas.
Mayor Box plays the role of one of the hostages taken by Tim and his group of thieves in "Die Semi-Hard".
He helps host the veterans parade honoring Maurice in "Jesus Walks".
The Mayor pardons an entire turkey flock after they help save Rallo in "Turkey Pot Die".
Mayor box appears at Perry's funeral in "Here Comes the Bribe".
Mayor Larry Box is voiced by John Slattery.