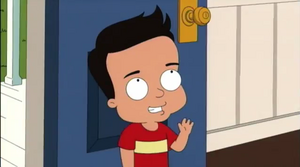 Marco is Choni's son whom she asks Cleveland Brown to babysit in "There Goes El Neighborhood" when her babysitter cancels on her. Cleveland gets into a bind when he winds up losing him.
Marco is enrolled at Harper Elementary School and joins Rallo at lunch in "Fist and the Furious".
Marco is voiced by Miggi Donahoe.