March Dadness
Cleveland plays golf against his dad and Cleveland Jr.

Season: 3 Episode: 14
Total Episode Count: 57
Prod. no.: 3APS16
First Aired: March 18, 2012

Guest Starring: Tim Gunn, Marc Summers
Featuring: Cleveland Brown, LeVar Brown, Cleveland Brown Jr.
Also Appearing: Rallo, Roberta, Donna, Theodore, Bernard, Larry the Monkey, Evelyn Brown, Tim, Angus, Gordy, Wally Farquhare, Arch, Kenny West, Cannonball Williams, Tim Gunn, Chief Illiniwek, Bevo
Musical Numbers: "I'm Alright"

Director: Ian Graham

Assistant Director
:
Max Martinez
Writers
:
Jonathan Green
,
Gabe Miller
Storyboarders
:
Lisa Kim
,
Paul Lee
Plot
: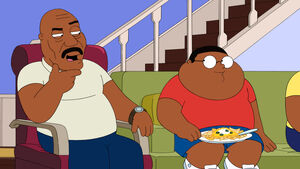 Rallo's viewing of Tim Gunn's reality show is interrupted when Cleveland decides to watch the college basketball tournament with Freight Train, but he quickly becomes frustrated when Freight Train enjoys spending quality bonding time with Cleveland Jr. instead after Junior starts picking the winners. To keep Junior's feeling from getting hurt, Cleveland tries to break them up but finds out the Freight Train has actually bonded with Junior, buying him golf clubs and going out together.
Cleveland tries to open up to his dad but finds out that his father never forgave him for failing in a stunt show as a child, costing them a trip to Orlando and ruining Freight Train's life with his bad luck. Once Cleveland learns the real reason behind Freight Train's cold attitude, he is determined to find a new father figure and goes head-to-head against his dad and Cleveland Jr. in a two-man golf tournament with the man that kept Freight Train from playing pro football, Cannonball Williams. At the tournament, Freight Train worries about not being able to keep up with Cannonball and gets set straight by Junior while Cleveland is determined not to lose to his dad.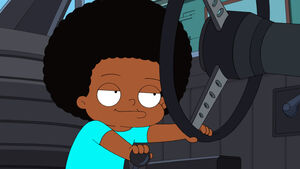 Meanwhile, Rallo runs to the store for Donna when Roberta refuses to go, but she becomes surprised when Rallo actually saves enough spare change from running to afford to buy a 1967 Mustang on Ebay. Going for a ride with his buddies, they raise havoc all over town, crashing into the golf course and giving Cleveland a clear shot by taking out a tree. On the final hole, Cleveland only needs to make an easy shot but pauses to think about what winning the trophy would mean to Junior. Cleveland swallows his pride and muffs the shot, allowing Junior and Freight Train to win. Junior admits that while Freight Train is a great grandfather, his dad is an even better father. Donna wraps things up by starting a Caddyshack-style party while Rallo burrows out from underground and his friends are rescued from the mangled remains of his car.