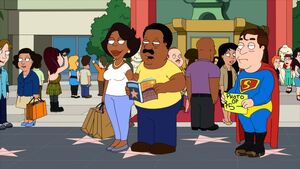 The Los Angeles metropolitan area, also known as Metropolitan Los Angeles or the Southland, is the 13th largest metropolitan area in the world and the second-largest metropolitan area in the United States.
Cleveland and Donna visit the Los Angeles area in "A Short Story and a Tall Tale" for the NBA All-Star game. Before the game, they visit downtown LA, the beach, Hollywood and Beverly Hills before finding happiness in one of Southern California's marijuana stores.
"Die Semi-Hard" is set in Los Angeles with Waterman International modeled after FOX Plaza. Other notable locations include Los Angeles International Airport (LAX) where Bruce meets Jeffrey.