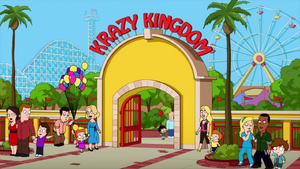 Krazy Kingdom is an amusement park that contains Rallo's favorite roller coaster, The Eliminator.
When Rallo gets excited when he realizes he's grown tall enough to ride The Eliminator in "Flush of Genius", he makes Donna promise to take him to the park. Rallo tells his friends all about his big day and tries to prepare himself for the big event. Cleveland uses Rallo's poster of The Eliminator as an inspiration for a toilet safety seat after he becomes a laughingstock for falling off of the toilet while drunk. Rallo's happiness is shot down when he discovers at the park that his extra growth was the result of Bernard Bernard's pet frog Mr. Ribbit in his Afro and he is forced to endure another year of kiddie rides. Seeing employees huddled around a television set, they see a news report of Cleveland being carried below a helicopter while strapped to the toilet with his design to speak on his proposal to the government. This wins back Junior's respect and Donna rushes the family to catch up with Cleveland, giving Rallo a thrill ride to rival any roller coaster.
Community content is available under
CC-BY-SA
unless otherwise noted.