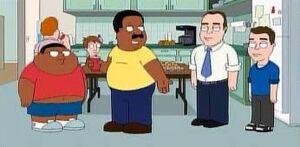 Keith is the son of Cleveland's co-worker Arch. Arch takes Keith to "Take Your Kid to Work Day" in "Ain't Nothin' But Mutton Bustin'". Keith, is as equally droll as his father. Arch shares his sense of humor with his son, only allowing him four laughs a week.
Kieth also appears at Choni's Superbowl party in "There Goes El Neighborhood" and as one of the scouts in "American Prankster".
Arch and Keith sit in The Broken Stool planning Thanksgiving in "Turkey Pot Die".
Kieth appears again as one of the Freedom Scouts in "Squirt's Honor".