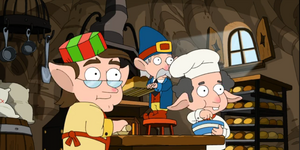 The Keebler Elves, led by Ernie Keebler, rank among the most best-known characters from commercials for the Keebler cookie company. The elves have appeared in countless television advertisements throughout the years, shown baking their unique products. The Keebler tree logo reflects this characterization.
Leo Burnett's company created the elves in 1968, calling the bakery "The Hollow Tree Factory".
In "A Short Story and a Tall Tale", diminutive mobster Marty Barty calls his entire gang together when he feels he has been disrespected by Rallo who blows off marrying Marty's sister, Trish Barty. The Keebler Elves are part of the gang that respond to his call.