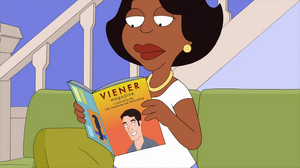 John Viener is a man who has worked on both Family Guy and The Cleveland Show. He provides voices when needed, including those of Kyle, Gordy, and Wowzer. His is also credited with writing "Die Semi-Hard", "Das Shrimp Boot" and "A Vas Deferens Between Men & Women". "Of Lice and Men" teleplay was co-written by Kevin Biggins and Travis Bowe, based on a story by John Viener.
In "Grave Danger", Donna reads Viener Magazine.
Community content is available under
CC-BY-SA
unless otherwise noted.