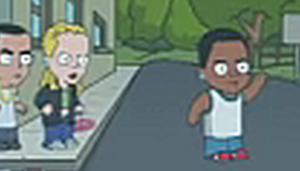 This episode has no cutaway gags.
Roberta is only heard once in the episode. Junior only has a couple of brief lines, noting that he has a bye week.
As Robert drives away with Rallo, Tyler can be seen through the car's rear window flipping Rallo the bird.
"Don't Fear the Reaper" by Blue Oyster Cult plays while the guys hang out at the cemetery.
The Pastor from "Cleveland Jr. Cherry Bomb" turns up in East Stoolbend. Another pastor who originally married Cleveland and Donna in the "Pilot" presides over a funeral attended by Murray.
Donna reads Viener Magazine, named after John Viener.
Both Cleveland and Rallo have suits worn by celebrities purchased from Ebay.
Donna hints at either having sex in a casket or grave or having tried necrophilia when she mentions renewing her membership to the "Six Feet Under Club."