Gone with the Wind
Quagmire pays a visit to Stoolbend to deliver Cleveland some upsetting news of Loretta's death.

Season: 1 Episode: 17
Total Episode Count: 17
Prod. no.: 1APS18
First Aired: April 11, 2010

Guest Starring: Alex Borstein
Featuring: Cleveland, Donna
Also Appearing: Cleveland Jr., Roberta, Rallo, Lester, Kendra, Tim, Arianna, Holt, Coach McFall, Dr. Fist, Angus, Gordy, Gus, Terry, Federline Jones, Mr. Waterman, Wally Farquhare, Len Stein, Mr. Flippers, Glenn Quagmire, Loretta Brown, Peter Griffin, Lois Griffin, Meg Griffin, Chris Griffin, Brian Griffin, Stewie Griffin, Joe Swanson,
Musical Numbers: Love Will Keep Us Together, Boogie Woogie Bugle Boy, Bad Day, You're All I Need to Get By, Never Knew Love Like This Before, Warm White Socks, Endless Love

Director: Ron Rubio

Assistant Director
:
Jae Kim
Writers
:
Bill Oakley
Storyboarders
:
Steve Ahn
,
Kevin Pawlak
Plot
: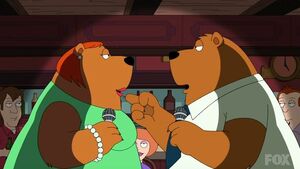 When Cleveland is diagnosed with high cholesterol, Donna puts him on a new high-fiber diet, which causes an intestinal backlash. When it begins to affect his work, he goes to see Dr. Fist who gives him a written note card explaining that he has a medical condition which he soon takes advantage of. Cleveland quickly realizes his gas might score him a few points in the Broken Stool's karaoke contest. Donna is appalled that Cleveland should resort to such disgusting behavior but they are interrupted by a call that brings news of Loretta's death. Cleveland's old friend Quagmire from Quahog arrives with the body and explains that she was accidentally killed in one of Peter's stunts, of which Cleveland had survived numerous times. Worried for Cleveland Jr., they try to break the news gently and find he has already put his mother behind him. Still concerned for Jr., the family is shocked when it is Cleveland himself that falls to pieces at the funeral. Donna is puzzled and angry after everything Cleveland told her about Loretta that he could continue to have such feelings for her. At the Broken Stool, the guys try to cheer him up but it fails and to top it off, Donna decides to sing with Coach McFall. Cleveland heads to the cemetery where he ponders why he is so upset and has a flash of inspiration when he drops a cookie. He rushes back to the Stool where he lets Donna know he was suffering from survivor's guilt after having lasted through so many of Peter's stunts while Loretta is killed on the first try. Donna is skeptical at first but Cleveland wins her over and offers to sing their song in the karaoke contest. He tries to sing it without farting but the audience soon convinces him and Donna to cut loose and they win.

Community content is available under
CC-BY-SA
unless otherwise noted.