Flush of Genius
Cleveland Jr. profiles his dad for a report on his favorite American.

Season: 3 Episode: 20
Total Episode Count: 63
Prod. no.: 3APS19
First Aired: May 6, 2012

Guest Starring: Bryan Cranston
Featuring: Cleveland Brown, Cleveland Brown Jr.
Also Appearing: Rallo, Donna, Roberta, Terry Kimple, Holt, Lester, Tim, Kendra, LeVar Brown, Evelyn Brown, Bernard Bernard, Theodore Parker, Jr. III, Dr. Fist, Gus, Laine, Derek, Reggie, Wally Farquhare, Eddie, Muff, Mr. Ribbit
Musical Numbers: You Dropped a Bomb on Me, Like a Good Neighbor, The National Anthem

Director: Jack Perkins

Assistant Director
:
Jeff Meyers
Writers
:
Aaron Lee
Storyboarders
:
Kurt Dumas
,
Achiu So
Plot
: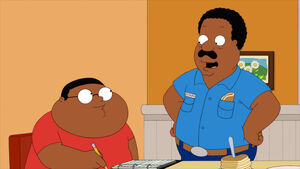 Cleveland Jr. decides to profile his dad for a report on his favorite American, but when Cleveland takes him to work and show him a less than all-American attitude toward his work and habits, he writes a less than flattering report. Upset at losing his son's respect, Cleveland goes out drinking. When he returns home drunk, he falls off the toilet while reaching for a burrito and suffers a concussion. Completely humiliated, he loses Cleveland Jr.'s total respect, resulting in Jr. changing his name to keep from being associated with Cleveland and Cleveland fails to win support for his cause to make toilets safer, blaming his fall on the design.
Meanwhile, Rallo gets excited when he realizes he's grown tall enough to ride his favorite roller coaster at Krazy Kingdom, The Eliminator. As Rallo anxiously awaits the big day, Cleveland is struck with inspiration for a shoulder bar design for toilets similar to those on roller coasters. As the rest of the family heads off to the amusement park, Cleveland tries out his safety bar and discovers he failed to design a mechanism to unlock the harness when complete. Cleveland gets a message out to Lester by writing on toilet paper with toothpaste and Lester calls for help. One of the rescuers was an individual who Cleveland had tried to solicit support from earlier but had denied falling off a toilet himself. Seeing Cleveland creation, he is still impressed and arranges to fly Cleveland to the government still strapped into his toilet seat so they may see his proposal.
Rallo's happiness is shot down when he discovers at the park that his extra growth was the result of Bernard Bernard's pet frog Mr. Ribbit in his Afro and he is forced to endure another year of kiddie rides. Seeing employees huddled around a television set, they see a news report of Cleveland being carried below a helicopter to speak on his proposal. This wins back Junior's respect and Donna rushes the family to catch up with Cleveland, giving Rallo a thrill ride to rival any roller coaster. Junior makes Cleveland the subject of his report again, noting that although the committee ejected him in disgust, he stood up for what he believed in like a true American.