We're Getting Mutants in the MCU - The Loop
Play Sound
Fist and the Furious
Cleveland decides to make Dr. Fist "one of the guys."

Season: 4 Episode: 17
Total Episode Count: 82
Prod. no.: 4APS15
First Aired: April 14, 2013

Guest Starring: Bryan Cranston, Carl Reiner, Jon Cryer, Angus T. Jones
Featuring: Dr. Fist, Cleveland
Also Appearing: Rallo, Cleveland Brown Jr., Donna, Roberta, Tim, Holt, Lester, Kendra, Coach McFall, Gus, Choni, Hot Wheels, Bernard Bernard, Theodore Parker, Jr. III, Byron, Marco, Larry the Leopard, Lupo, Pete, Bernie, Darryl
Musical Numbers: Bad Case of Loving You (Doctor, Doctor)

Director: Anthony Agrusa

Assistant Director
:
Orlando Gumatay
Writers
:
Jonathan Green
,
Gabe Miller
Storyboarders
:
Kurt Dumas
,
Antony Mazzotta
Plot
: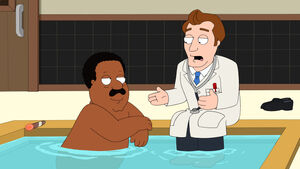 Donna takes Cleveland to Dr. Fist for an exam and when they hit it off, Dr. Fist looks thoughtful when he leaves. Dr. Fist continues to keep calling Cleveland in to see him and the guys speculate that it is bad news. Suspecting he is dying, Cleveland starts to do stunts he always dreamed of until Dr. Fist confesses that he really needed a friend. He admits that he couldn't bring himself to ask because of his profession and Donna convinces Cleveland to take him out for a beer despite his reservations. Dr. Fist hits it off with the guys due to having money. When pushed by Cleveland to his past, he claims he lost his cell phone and his entire history. As he shares the medical secrets of passer-byes, Cleveland takes him to a surprise party of his old friends he located which turn out to be the mob which wants him dead.
A shocked Dr. Fist explains his entire back story of having gotten recruited to help out mobster and found himself their exclusive doctor and decided to get out by helping the FBI and went into hiding. Cleveland hatches a plan that appears that he turned and killed Dr. Fist in front of the mobsters. They verify that Dr. Fist is dead and leave on a threat from Cleveland. Cleveland screws up their plot and really shoots Dr. Fist, forcing them to fix him based on the Operation game. Dr. Fist announces that he is staying in town even through he no longer has to hide.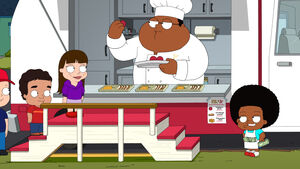 Meanwhile, Rallo isn't happy with his gourmet lunch Junior supplies for him until he tries it. When the other kids show an interest, Rallo decides to launch them into business making special lunches but Choni crowds their spot with her own lunch truck and the kids take to her Mexican food. When she refuses to leave, Rallo gets a supply of roaches from Kendra to get her truck closed by the board of health. Choni confronts Junior about her truck getting closed just before Cinco de Mayo and Junior turns on Rallo and insists that he fix what he did. Rallo and Junior tell the health inspector that the roaches are really part of a gourmet meal but Rallo has to eat the roach to prove it and Choni's license is reinstated.