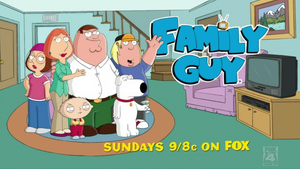 Family Guy is an animated television show that airs on the FOX television network. The show was created by Seth MacFarlane and premiered after Super Bowl XXXIII in 1999. It ran for three seasons but was cancelled in 2002 after being moved around in the schedule.
However, after outstanding DVD sales and success in syndication, FOX made an extremely rare move in uncancelling the show. Fox bought 35 new episodes and the fourth season premiered on May 1, 2005.
The show is focused around the Griffin Family, consisting of Peter, Lois, Chris, Meg, Stewie, and Brian. Other recurring characters include Glenn Quagmire, Joe Swanson, Bonnie Swanson and Herbert.
The Cleveland Show is the spin-off of Family Guy.
Crossovers on The Cleveland Show
The Cleveland Show crossovers on Family Guy
The end of The Cleveland Show is acknowledged when Cleveland simply walks back onto Family Guy in "He's Bla-ack!" and opens himself up to the humiliation from his friends.
When Peter names people who should go on Quagmire's camping trip in "No Giggity, No Doubt", he names the cast of The Cleveland Show which is also shown in a group shot that includes numerous side characters.
For more, visit Family Guy Wiki