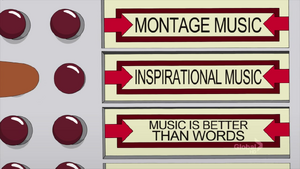 Goochland was first mentioned as the county where Brandi was trapped in the well in "Harder, Better, Faster, Browner".
This marks the second time Roberta dresses as Donna, the first being "Dancing with the Stools".
When Cleveland is looking for music on the jukebox at The Broken Stool, Seth MacFarlane's album Music is Better than Words is seen as an option.
Cleveland tries to locate Toonces, the Driving Cat, a Saturday Night Live sketch character as a designated driver.
Rallo dresses up as Billy, used by the series' main antagonist, John Kramer, a.k.a. Jigsaw, from the Saw film franchise.
Chet's death in this episode marks the second straight season in which a villain has been killed off on Halloween, the first time being Donny's death in "Nightmare on Grace Street."
The costumes the guys obtain at the Halloween store are Papa Smurf (Cleveland), Inspector Gadget (Federline), He-Man (Tim), Tommy Lee (Lester), and Katy Perry (Holt).
A real Goochland County exists in Virginia, near Richmond. In addition, the term "gooch" is slang for the area of skin between the testicles and the anus.[1]
The song played in the stadium where Eunice is rolled out is a DJ Stephanie's hardstyle remix of Amii Stewart's "Knock on Wood", originally written and performed by Eddie Floyd.
Lester uses Kendra as a system of measurement, noting while in Goochland that they are 15 Kendras away from the bus station. When Holt asks for a clarification of height or width, Lester notes that she is a perfect circle.
It is revealed that due to the frequent blackouts in Stoolbend, the people have developed the ability to see in the dark like moles.
Community content is available under
CC-BY-SA
unless otherwise noted.