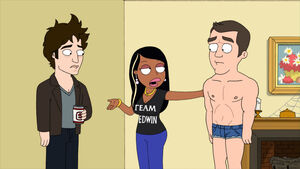 Edwin Mullins is a new student at Stoolbend High School. When Roberta Tubbs notices his pale, dark looks and a trickle of pizza sauce dribbling from his lips in "Nightmare on Grace Street", Roberta gets the idea that Edwin could be a vampire. Introducing herself, Roberta ignores hints from Edwin that he isn't interested in her. Roberta tries to attract Edwin by jumping off of a cliff into a like like she saw in the movies, but is rescued by a moonlight swimmer named Caleb. Roberta gets the idea that he is a werewolf and has to think over who she wants to be with. At a Halloween party, while trying to decide if either Caleb or Edwin should become her lover, she has them go into a room to fight it out over her. Nervous about what is going on, Roberta has her friend Anna look in on them and finds out that the two of them are having sex together.
Edwin is voiced by Glenn Howerton.
Community content is available under
CC-BY-SA
unless otherwise noted.