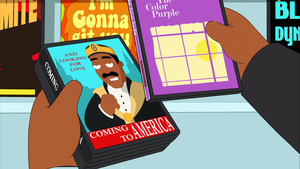 Edward Regan "Eddie" Murphy (born April 3, 1961) is an American stand-up comedian, actor, writer, singer, director, and musician. He was a regular cast member on Saturday Night Live from 1980 to 1984.
He has received Golden Globe Award nominations for his performances in 48 Hrs., Beverly Hills Cop series, Trading Places, and The Nutty Professor. In 2007, he won the Golden Globe for Best Supporting Actor and received a nomination for the Academy Award for Best Supporting Actor for his role in Dreamgirls.
Eddie Murphy's work as a voice actor includes The PJs, the Shrek series and Disney's Mulan.
Murphy has played multiple roles in Coming to America, Wes Craven's Vampire in Brooklyn, the Nutty Professor films, Bowfinger, Norbit, and Meet Dave.
In "The Men in Me", the Tyler Perry DVD section replaced those of Eddie at Blackbuster. In the same episode, Cleveland picks up a DVD of Coming to America.