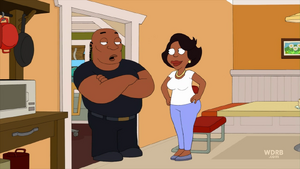 Eddie is a bouncer and doorman, first appearing at SKANXXX in "A Cleveland Brown Christmas"
He also works at Choni's Super Bowl party in "There Goes El Neighborhood". Under orders from Choni, he refuses to let Cleveland inside after Choni is insulted by Cleveland when he accuses her of being a robber when she tries to sneak into her own house after she loses her keys. When Cleveland questions why he would take a job that causes disappointment in others, Eddie tells him he'll do whatever it takes to put braces on his kid.
In "Flush of Genius", he stands guard inside the Brown home. When Cleveland gives Cleveland Brown Jr. Donna's all-access pass when he wants to make his report about Cleveland, Donna is unable to get past Eddie without her pass.
Eddie guards the backstage of the Stool Bowl amphitheater during a concert featuring George Clinton and the P-Funk All-Stars in "When a Man (or a Freight Train) Loves His Cookie".
Eddie is the doorman at Sad Woody's Gentlemen's Club in "Pins, Spins and Fins!" when Rallo comes looking for Cleveland. Eddie even gives Rallo a drink ticket after letting him pass.
Eddie handles tickets at Even Sadder Woody's during Junior's pole dancing competition in "Wheel! Of! Family!".
Community content is available under
CC-BY-SA
unless otherwise noted.