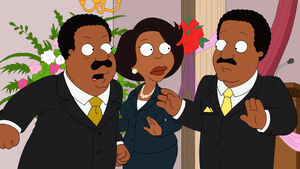 Ebert Williams the look-alike Donna hires to stand-in for Cleveland when he keeps embarrassing her in "The Hangover Part Tubbs" as she runs for school board. She found out about Ebert from LeVar Brown who had been using him as a stand-n for years.
When Donna tells him that Cleveland wants her to fire Ebert, he notes that LeVar wanted to read him a bedtime story and that he clears $12,000 anyways. After he also points out that Donna would lose half of her cash for a late cancellation, she decides to keep using Ebert at her upcoming debate. Ebert also points out that he will need cash payment as her check bounced.
Ebert is voiced by David Alan Grier.
Community content is available under
CC-BY-SA
unless otherwise noted.